Last week I got a call from someone asking if I could possibly officiate her wedding, which is coming right up, on December 6.  She said it was kind of a crazy story, perhaps too complicated for a voicemail, and could I call her back.  Intrigued, I called right away, and was delighted by what I heard.  Jennifer is a friend of friends, and though we haven't connected much in the past, I'm sure we've met before at parties and community events.  She and her fiance, Shawn, have this great idea to get married next month at a big fundraising event in our community: The Hot Chocolate Run for Safe Passage.
The Hot Chocolate Run is a community celebration of Safe Passage, the Hampshire County (MA) organization addressing domestic violence.  Since 1977, Safe Passage has helped thousands of families achieve safety, build justice, and rebuild their lives in the wake of domestic violence.  The Hot Chocolate Run has had an incredible impact on the lives of women and children affected by domestic violence and has helped Safe Passage respond to thousands of people in abusive relationships over the past ten years. The event has supported safe shelter, legal assistance, and critical counseling services for adults and kids who have lived with violence in their homes.
Jennifer explained that she and Shawn had met several years ago through the Hot Chocolate Run for Safe Passage.  Jennifer first participated in the run in 2004, and remembers that after the race she started complaining to a friend about how it had gone.  The friend proactively suggested, "Instead of complaining, why don't you volunteer next time?"  So Jennifer did, and she became a critical volunteer and supporter every year since.  Three years ago she met her fiance when she was working on the race and, as she says, "I took notice of a guy on social media named Shawn Reynolds who was running the HCR as his first 5K but was somehow also a top fundraiser.  He was incredibly funny and hot as a baker."  The two got together, and this fall Shawn asked her to marry him.  She said she would.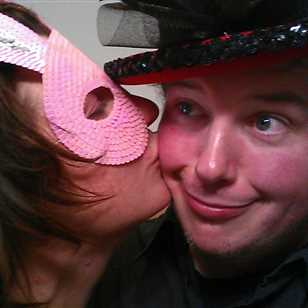 When Jennifer called last month and asked me to be her officiant, I was thrilled.  I love a good story, I love love, and I love hope and community and determination trouncing violence and isolation, which is exactly what the Hot Chocolate Run and this wedding are about.
So I'm very excited to be running in the Hot Chocolate Run for Safe Passage next month.  I'm running because I love to run, especially in cold weather; because I love marrying people (and how often do I get to go for a run with a couple I just married?  Uh, never!); and because I whole heartedly support Safe Passage and their crucial work in the community not just in the essential services they provide families, but also in their success in raising awareness across the board about domestic violence, which impacts all of us in one way or another.
If you'd like to learn more about Safe Passage, Jennifer and Shawn's story, and to support the cause, visit their fundraising page.